Custom designed for maximum energy usage and a longer product life cycle
Alltherm Services excels at manufacturing our electric element lid covers! Our innovative design retrofits your elements for maximum energy usage and a longer product life cycle.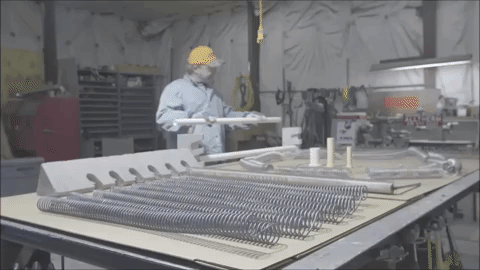 This element anchoring system replaces the metal anchors with ones that are solid castable. This approach completely eliminates the threat of failed insulators while softening the contact area between the a ceramic tube and the anchor.
Alltherm's Split Lid Electric Covers are designed to make your maintenance guy smile. They will be able to switch out elements in record time and clean out the furnace much more easily. Your Maintenance Department will get an easy to fix product, while you get a cleaner furnace.
Depending on your heat requirement, heating elements are spun from nickel or iron chromium, and are custom made by Alltherm Services.
Our custom spun elements not only last longer, but can be replaced quickly and easily making your maintenance managers smile.
Do you heat your metal with electricity! Our custom designed elements provide higher energy efficiency that can cut 10% off energy costs.
We are more than happy to provide additional information about our products or services. Reach out to us for product pricing details, service timelines, ordering information, or any other questions you have